Award Winning Preschool & Daycare
Welcome! We are delighted that you are considering our services as an integral part of your child's upbringing.
Book a Tour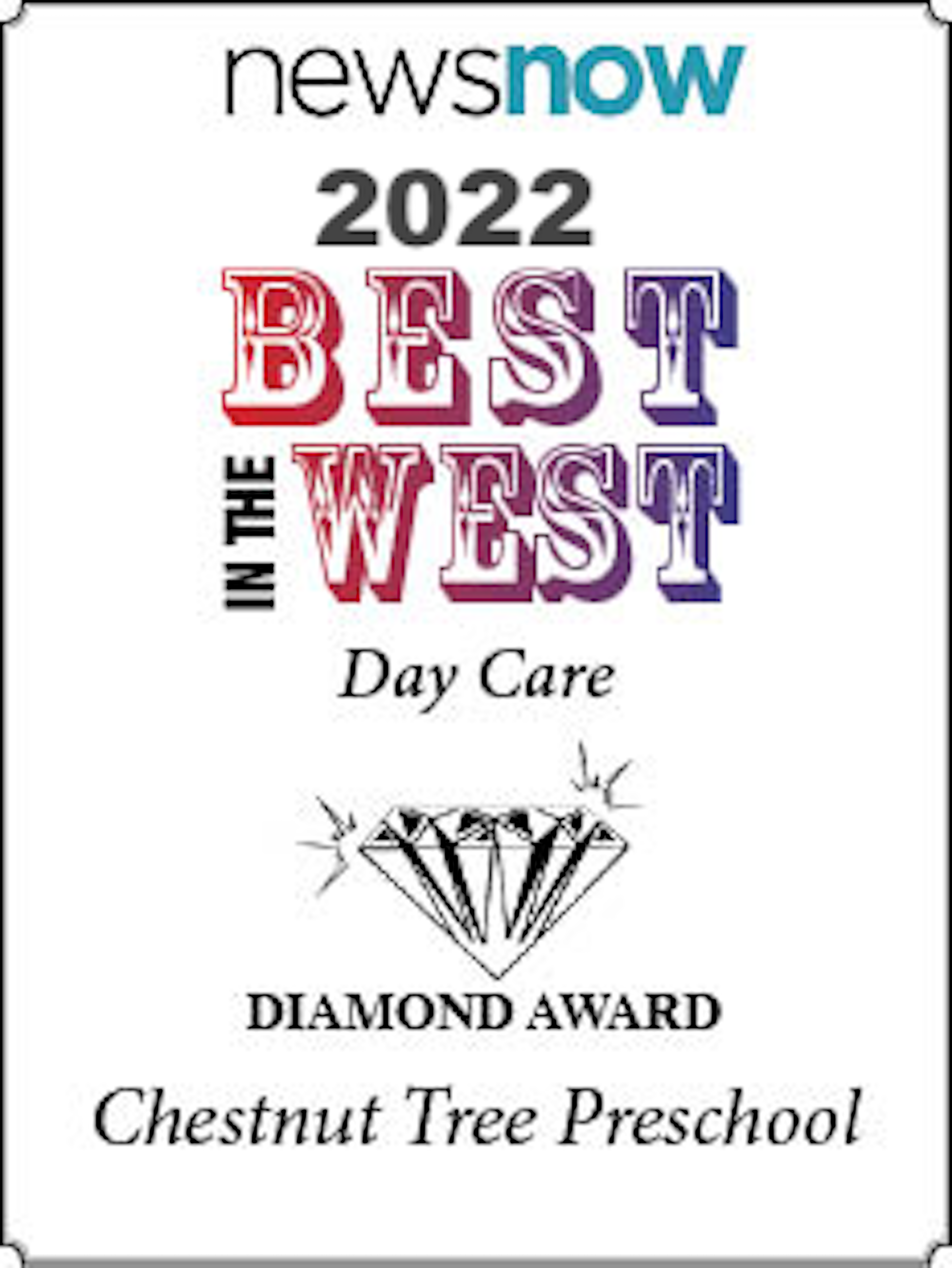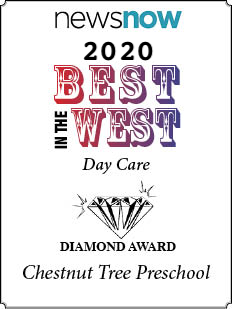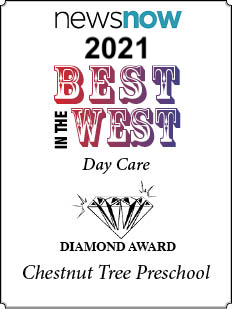 Award Winning Preschool & Daycare
Come visit The Chestnut Tree Preschool Center of your choice and discover for yourself.  You can tour the rooms and meet some of our educators. We offer High Quality Early Education.  We strive to provide a healthy, safe and positive environment in which each child can discover, in their own way, the magic of learning and the joy of growing up.
Book a Tour
Why Early Learning Matters
"The world of infants, toddlers and preschoolers is one of extraordinary brain activity and learning."  Simply put, a child's early years lay the foundation for all that is to come, it paves the way for success at school and throughout life. Researchers have learned that children are the  most receptive to learning, between birth and three years of age.
What We Offer
The Chestnut Tree Preschool strives to provide an affordable, high quality inclusive childcare that promotes early learning development, lead by professional, qualified staff, promoting a solid pedagogical approach and a variety of goals for children to achieve.  We want to ensure that every child's experience is truly a magical one.
Language & Literature

Creative Arts Experience
Imaginative & Preferred Play

Cognitive & Fine Motor
Science & Technology

Sensory Experiences
Outdoor Physical Fitness

Group Activities
Math & Numeracy

Blocks & Compilations
Self Care, Health & Wellness

Nutritious Meals
Read More
Our Programs
Our programs focus on each child's development in social-emotional growth, gross and fine motor skills, language, literacy and numeracy.
Infant Care
Toddler Care
Preschool Care
Read More
What Parents Say
Both my son and daughter have attended the Chestnut Tree and I cannot say enough good things about this location. The staff is attentive, nurturing and educated. They understood my personal needs and implemented them with no hesitation to the fullest extent. Communication with the staff was always pleasant and any questions or concerns I had were always met in a reasonable time frame. Great work staff!
- Amy - Sept 2020
Daily updates are honest and helpful. Our son loves going in each morning.
- Nicole - Aug 2020
The staff made me comfortable and worry free leaving my children for the day. I felt confident my children were in a safe and caring environment. My children came home happy each day and seem to have genuine connections with the staff at the center which made me feel better about being a busy working mom.
- Steph - Aug 2020
My granddaughter began Preschool at The Chestnut Tree last August. This experience has had such a positive impact on my grand daughter's introduction to learning and socializing. I would highly recommend this program to any parents that are looking for a healthy, safe and educational environment for there child.
- Julie - Aug 2020
Our family's experience with chestnut tree (Grimsby) was amazing. Our son integrated quickly with his classmates and the teachers were very caring, knowledgeable and supportive of his individual needs. He enjoyed waking up to attend school/daycare everyday. Just to say the Grimsby staff are absolutely amazing and we were so grateful to have our son in this daycare program.
- Tyann - Aug 2020
My daughter loves going to 'school'. So thankful for the teachers, for a their he'll and understanding during this time. But also pre-covid they were so engaged and caring for our daughter and teaching her ! Couldn't be happier.
- Nicole - Aug 2020
We have enjoyed our experience at the King street location. The staff are absolutely amazing!
- Ellie - Aug 2020
We have been very pleased with the teaching staff and programs at Chestnut Tree with our two children. The staff are very loving and pleasant. We have referred our family members to Chestnut Tree as well.
- Julianne - Aug 2020
The staff at Chestnut Tree have been fantastic. Our son loves it there and has learned so much. We couldn't be happier!
- Kyle - Aug 2020
The first time we walked into Chestnut Tree Preschool we were told by other parents that we would love it there, and we did. Our little one spent 6 months in the infant room and loved going in every day. Miss Amy and Miss Nicole were absolutely wonderful.
- Steve M - Jul 2019
These ladies love what they do and they know the children they are caring for very well. The bonds of attachment between the children and the staff are evident.
- Meghan A - Aug 2015
We also appreciated that the location offered health lunches for the children. On many occasions they had to make special food arrangements for our Daughter as she wouldn't eat some of the normal things kids would eat. On one occasion Bonnie, ask us what she liked to eat, so she could tailor the meal plan to what she would eat. I was impressed that they took the time to care that one child required special treatment.
- Veronica F- Jul 2015
I am also very impressed with the amount of learning that goes on each day. The first time my daughter came home and printed her name was bittersweet for me – I am her mother and I am a teacher, yet, I didn't teach her how to print her name. I was happy to realize that another caring adult devoted that time and attention to teach her how to do that.
- Meghan A - Aug 2015
If I have any questions through email they answer my questions in a very timely manner. My son comes home raving about his teachers & friends. He has a couple different teachers and when I ask them about his day they are very specific and it is clear they keep good tabs on all the different children! My son is always excited to go to preschool & sometimes even cries when he sees me arriving to pick him up! (Which is very bittersweet for me lol)
- Steffanie - Oct 2021
My brother has an Egg, Dairy and Mustard seed allergy with his epi-pen everywhere with him, since joining the staff have been nothing but helpful and lets him join in with his friends at lunch without sitting alone- he loves his teachers and is always so talkative from learning words from his friends, he is always excited to go to school!
- Sophia - Jan 2022
Our son loves going to Chestnut tree and seeing his friends and partaking in the activities and learning they have to offer. The staff are so kind and supportive, especially to first Time moms :) although covid doesn't allow parents interaction as much as there have been previously, the staff makes ensures there is involvement and notice however possible.
- Serra - Jan 2022
My son has been going to The Chestnut Tree since august 2019. I am very impressed with quality of childcare. From the amazing teachers, activities, events, communication between teachers to parents and responsiveness of supervisors. It truly makes me very happy that my son is getting such amazing care. He comes home so happy and tells me all about his day and what he has done, as well as bringing home the crafts and activities he has done for the day. It's a great way for our children to make friends! I cannot wait to enrol my second son at The Chestnut Tree.
- Claudia - Oct 2021
My daughter started here as an infant, and has since moved up to the toddler room. I 100% trust all staff members with the care of my child and love the above and beyond care we BOTH recieve.
The staff are very supportive and educated with lots of experience.
- Jessica - Sep 2021